**If you need new interior and trim for a vintage helmet contact Billy or Rachel at Hell Mutts. Killer work as seen below! 
Vintage full face helmets have become popular among the chopper freaks of the world, myself included. They have a clean vintage style that you cannot find in modern helmets. Most of these helmets are pretty beat up and need lots of work to revive them. We strip them down to the bare shell, removing all the snaps, straps, buttons and interior. The shell is then stripped of paint, bodyworked and primed to get out all of the imperfections. After some killer paint is laid down, I ship them off to HELLMUTTS in the great state of Washington for new interior, straps, snaps and trim.
With popularity comes a price . . . and you can expect to pay $150-250 or more for the stock original donor helmet! Price for stripping bare and painting the shell runs around $350-400. The same amount of work goes into these that goes into painting a gas tank from bare metal. Lastly, the custom interior and finishing touches run right around $125 on average. You are looking at $6-700 for the finished product and if you could see one in person you would say it is worth every penny! The stock hard foam inner shell and the outer shell are the only things that remain from the original helmet most times.
You can supply us with your own donor helmet or we can try to track one down for you. I may have donor helmets in stock from time to time and will list them on the homepage for sale.
***We can also source NEW vintage style full face helmets both DOT and novelty. Price for the complete, new helmet with custom paint would be $350-399. These helmets are from Elders Helmets (xbone helmet) or the Blaster from Chern Yueh. Biltwell is also dropping a DOT fullface in the very near future! Plenty of choices out there folks!
"The Paint Process"
HAPPY CUSTOMERS!
(below) Elders Xbone
(below) Vintage Bell Moto 3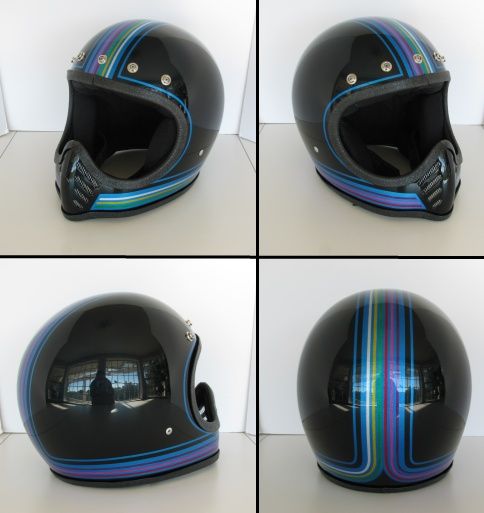 (below) vintage Bell Trailstar
(below) vintage Shoei